Allergy FREE Unsweetened Paleo Brownie
I love cooking with wholefoods and using just their natural sweetness whenever I can. This recipe is a perfect example. The fresh fruit provides the sweetness and combined with the chia seeds it provides the perfect amount of glue/gooeyness for a fantastic allergy free brownie.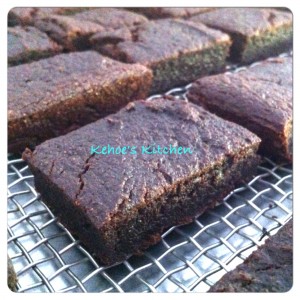 This NUT FREE Paleo Brownie recipe is perfect for parties or even school lunchboxes.  It is suitable for those on Paleo, GAPS, Dairy Free, Nut Free, Sugar free, Grain free, Gluten Free, Soy free & Sweetener free wholefood diets.
I wrote this recipe last year for my friend Beth when I published my Best Ever Chocolate Mud Cake recipe which she couldn't have.  Her son is allergic to dairy, wheat and nuts and they follow a GAPSish diet so she struggles to find recipes to suit him.  For Beth and all my wonderful Northey st customers and online friends/followers; I hope you enjoy this recipe and that it brings a big fat gooey chocolate grin to your little munchkins' faces.
Ingredients
750g fresh pear
250g fresh apple
10 dried pitted dates
1 tsp vanilla extract
1 tbsp bi carb soda
1/2 cup chia seeds
3/4 cup coconut oil or ghee
1/2 cup cacao powder or carob powder
¾ cup coconut flour
Method
Pre heat oven to 150 deg C.
Blend chia seeds to a meal (powder) in high speed blender, set aside.
Wash and blend pears and apples
Add dates, cacao powder and vanilla extract, blend well.
Pour wet blended mix into a large mixing bowl
Blend chia meal and coconut oil, add to wet, mix well.
Sift bi carb soda into mix.
Add coconut flour (no need to sift), mix well with hand whisk
Pour into paper lined baking dish, I use a 33x23cm pan.
Bake for 30-50 mins checking regularly after 30 mins.
Test if cake is ready with a skewer, pierce the middle and if it comes out clean it's ready.
Allow to cool to room temperature in pan.
Remove from pan, cut into squares.  If it's too wet for your liking, spread out slices on baking trays and return to oven for 5-15 mins or into dehydrator for an hour at 68 deg.
Serve dry as is or dress it up with chocolate ganache, cacao nibs, coconut flakes, nuts and/or berries.  Also mixing 1/2 cup of cacao nibs through the batter gives a great chocolate chip brownie.
Substitutions:
1kg total of fresh pears or apples is fine if you don't have both fruits on hand. You can also substitute drained tinned fruit.
If you can't have cacao, then you can substitute carob powder.
If on failsafe/low chemical you could use carob powder, ghee and cashew meal.  I haven't tried this yet, but I would probably try 500g of pear and use about 2 cups of meal.
Photos Please
If you love taking pictures of food like me, post a picture of your brownie on my facebook page or hashtag me on Instagram.  I love to see you guys enjoying my recipes.