Best Ever Chocolate Mud Cake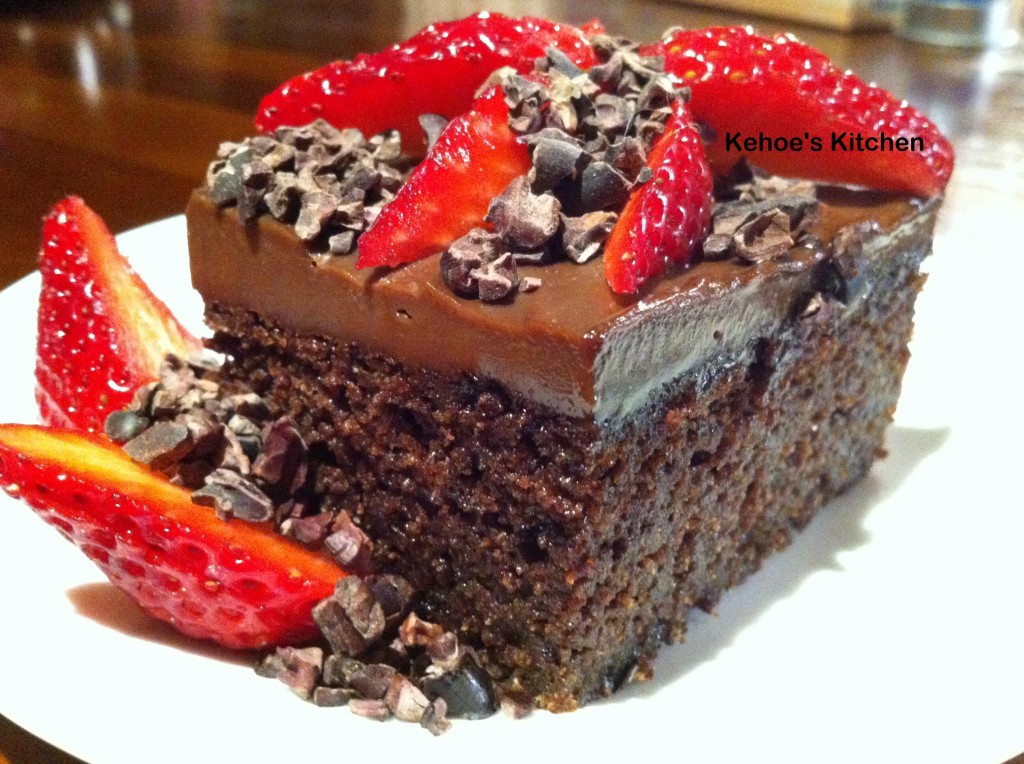 Whole food grain free chocolate sponge.  Suitable for GAPS and Paleo diets.
I was going to type out the Sauerkraut recipe tonight but given that it's father's day here on Sunday I figured you might appreciate the coconut flour mud cake first. Hope Dad likes it!!  My boy said it was the "Best dessert ever", hence the name.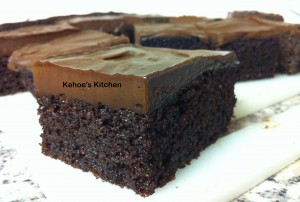 This  would have to be the spongiest coconut flour sponge that I've achieved yet. It will be perfect for grain free birthday parties as it is so similar to a normal choc mud sponge in density and texture no one will know any difference. It's super quick and simple to make too.
Cacao is raw Cocoa which is listed in the foods to avoid in the GAPS book, but Dr Natasha Campbell-McBride does say on her blog that those on Full gaps can have it occasionally; "Cocoa is SCD illegal. However, I find that many people can start having it occasionally on the Full GAPS Diet, once the digestive symptoms are gone. Find pure organic cocoa powder.  After trying it for the first time, observe your patient for any reactions. Cocoa is very rich in magnesium and some essential amino acids and, unless your digestive system is not ready for it, there is no need to avoid it." YAY!!!!!  Wish I knew that when I was on strict GAPS.
All those egg free families out there, don't worry I haven't forgotten you.  This recipe won't work by simple substitution of a chai egg.  You can use my Allergy Free Paleo Brownie recipe to make a delicious mud cake.
I first made this dairy, nut and sugar free frosting for my son's 4th bday party last year.  I was going to save it for the cook book but was so excited about how wonderful this mud sponge turned out I had to share, and what better frosting to share with it.  It is super healthy as it gets its creaminess from avocado, and firmness from the chilled coconut oil.  Everyone knows avos and coconut oil are great for health.  Cacao is good for your heart, brain and detoxification and raw honey is nature's own mutli vitamin sweetener.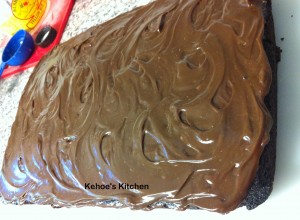 This recipe makes a massive 33x23cm (12″x9″) slice.  If you want to make a 22cm (8.5″) round tin use about 2/3 and if you want to make a 18cm (7″) round tin use 1/2.  As with all mud cakes, the cake tastes far better at room temp, but the frosting is firmer and creamer slightly chilled.  I recommend taking the cake out of the fridge 1-2 hrs before serving depending on the weather.  If in a rush, you can warm the sponge of the individual slices with a blow torch (crème brulee torch).  Or just eat it, it's awesome either way even if I do say so myself.  I'm sure you'll make it enough times to figure out how you like to have it.
Ingredients
Cake
8 eggs
375g* (13.2 oz) butter, lard or coconut oil for dairy free
1 cup coconut flour
1/2 cup cacao powder
1 cup honey
2 tsp bi-carb soda
2 tbsp vanilla powder (or 2 tsp vanilla bean paste or extract)
Frosting
200g (5.5 oz) virgin coconut oil
200g (5.5 oz) ripe cold avocado (1 large)
3 tbsp cacao powder
1/3 cup raw honey
Method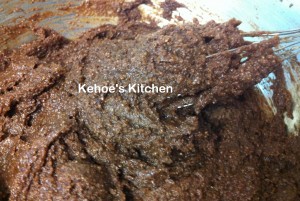 Preheat oven to 180 deg C (350F), no fan.
Melt butter in a fry pan on stove.
Crack eggs into large mixing bowl.
Sieve in dry ingredients, add honey.
Whisk by hand to combine well.
Add melted butter, whisk again.
Line cake dish with baking paper or grease with butter or coconut oil.
Pour in batter and use spatula to spread out evenly (it will be thick).
Place on middle rack in oven and bake for 35-40 mins, no fan.
Test if cake is ready with a skewer, pierce the middle and if it comes out clean it's ready.
Allow to cool to room temperature, place it in the fridge if in a rush.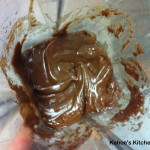 Blend frosting ingredients using tamper until smooth and creamy (it will go smooth when it hits the right temperature).
Spread frosting over cake and place in fridge to semi set coconut oil to give a butter frosting consistency.
When serving, remove from fridge about 30-45 minutes before to allow butter in sponge to soften, if you can wait use a blow torch to warm sponge on the individual pieces being careful to only soften sponge.
Served above with Cacao nibs and fresh strawberries.  Toasted coconut flakes go down a treat too.
Enjoy:)
*Amount reduced from 500g due to some people complaining that it's too oily when hot.  If the cake is not dense enough for you, increase the butter/oil to suit.  Remember butter, coconut oil and lard all solidify on cooling to give the dense mud texture without soy lecithin, gums etc found in the chocolate of other mud cakes.