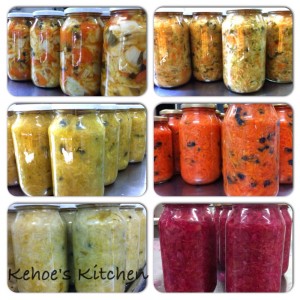 When people read my fermented sauerkrauts, dips, pesto and salsa labels and see that they contain just veggies and salt or fruit they sometimes say, is this fermented, there's no culture? Can you use this one?
I get this question a lot, so thought I'd explain here as there are a lot of new starter cultures hitting the marketplace as fermenting is becoming popular and I'm getting requests to use them everyday.
I prefer Wild fermentation over using a starter culture. Wild fermentation means the plentiful WILD bacteria already on the fresh produce is what populates the fermentation. No packet starters are required to produce this traditional health food. They are not necessary in fermenting fresh produce at all. I only use them if I'm peeling off the skin (the bacteria is on it) or cooking (pasteurizing) the vegetable first.
So why do I think Wild is better than using a packet starter culture? Simple, it provides a more diverse population of millions of strains of beneficial bacteria in a combination formulated by the most qualified nutritionist of all…Mother Nature. It's the only truly Organic/Paleo way to make it.
Yoghurt, kefir and other milk ferments are different, they DO require starters.