Butternut, Pepita & Prosciutto Biscuits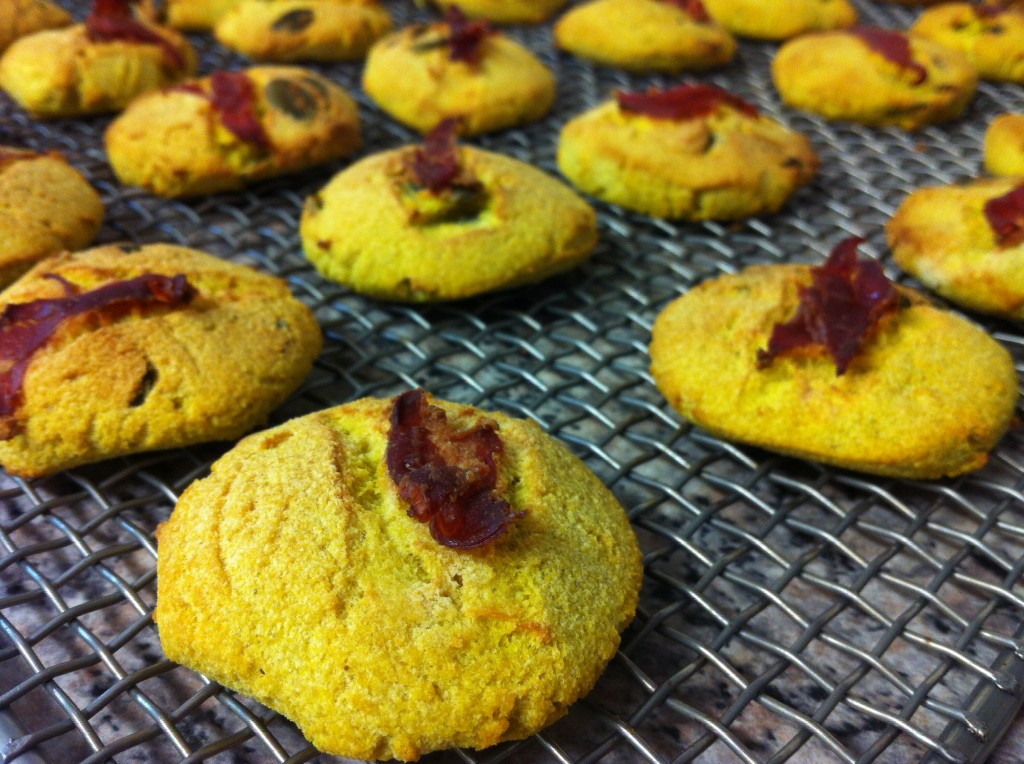 I just made this recipe up this morning to take to the local Brisbane Paleo 'meet up'. I hope they like it. If I was making these for a standard diet outing I would have added some salt, as most people like strong flavours, sweet or savoury. I figured if any group should be able to appreciate wholefood natural flavours it should be this group and I am excited to get their feedback, but a little nervous.  Perhaps I should have just made sweets….
If you make this recipe you might want to add a little salt, say 1 tsp. Just taste the batter and see if you feel it needs it, don't add too much or you won't taste the butternut. You could also try adding some fresh parsley or chives instead.  I was going to but got distracted and forgot, kids, bless them.
If you want to make these sweet, omit the prosciutto and add a little honey, rapadura or maple syrup.  You may need to bake for a fraction longer due to the additional moisture content.
Ingredients
butternut (neck, 770g)
6 eggs
1 & 1/2 cups coconut flour
2/3 cup ricotta cheese (sub coconut cream for dairy free)
125ml butter (sub lard or coconut oil for dairy free)
1 cup activated pepitas*
1 tsp bicarb soda
50g prosciutto*
Method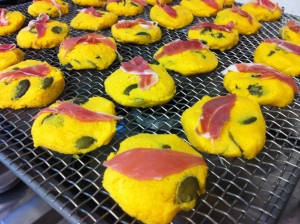 Preheat oven to 180 deg C, no fan.
Crack eggs into Vitamix or other high speed blender.
Cut neck and skin off butternut, cut into large chunks and blend with eggs until smooth.
Sift coconut flour and bi carb into large mixing bowl.
Melt butter in small saucepan.
Combine butter, raw pumpkin puree, ricotta and sifted ingredients in the large bowl with a wooden spoon.
Add pepitas, stir through.
Use a small ice cream scoop to measure out biscuit ball portions.
Stretch a piece of torn prosciutto over each ball.
Use damp hands to gently flatten and smooth edges into biscuit discs, ensuring prosciutto is stuck down.
Spread out on a large baking rack (not tray, you want moisture to escape from all surfaces).
Biscuits won't grown so no need to leave much space between them.
Bake for 45 minutes, rotating rack at half time.
Allow to cool completely on baking racks before lifting off (they are very fragile hot, and will firm up once cool). You may need to use an egg flip to lift off (mine stuck a little).
Enjoy at room temperature or from fridge.
*Activated Pepitas are simply Pepitas that have been soaked in water (8-12 hrs) to release the enzyme inhibitors and then dried in a dehydrator at low heat (41 deg C max) until crispy.
Buying Tip:
I buy PAMA prosciutto from ALDI.  It's not organic,  but it is just pork and salt:)